A LOGO for the project was created, and it says the following: "Agriculture of Solidarity – a movement for the People, Earth and Food... with Love and Trust"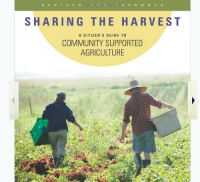 We did a translation into Bulgarian of the main concepts of the CSA from the book "Sharing the Harvest - a Guide to Community Supported Agriculture".
This was of great importance, because in Bulgaria no one was familiar even with the main concept and stepping stones.
Interviews, history, contracts, guidelines, legislation structure – all were translated and used to prepare informational materials for the project.
FAMILY BIO- and ECO-FARMS SITE VISITS: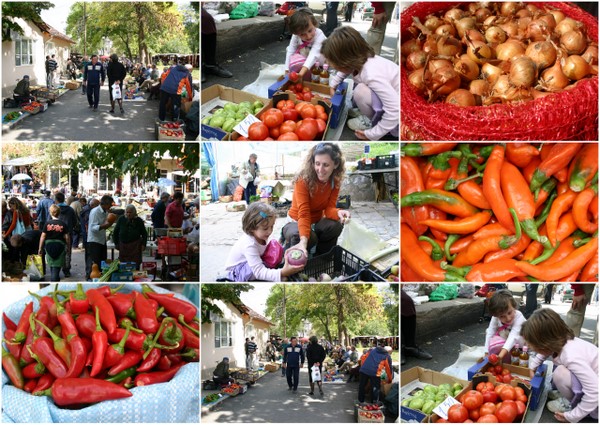 Kustendil town – farmers market - October 2010.
We visited the local market and introduced the idea in front of the local farmers – most of them are unemployed people, who grow a rich variety of products on a relatively small piece of land – unfortunately, it turned out that the extremely low culture of land cultivation makes them inappropriate for the purposes of our CSA project – they all use unmonitored amount of chemicals and pesticides to grow their production, and what was even more concerning – they believe that this is good and they refused to employ new methods. They strongly refused to commit to an advance payment for their future produce. After these meetings, we decided to search for bio certified producers and producers who follow strictly the methods of biological and bio-dynamic agriculture – i.e. they produce pure, certified products and aim to cultivate the soil, they respect it and do not exhaust it.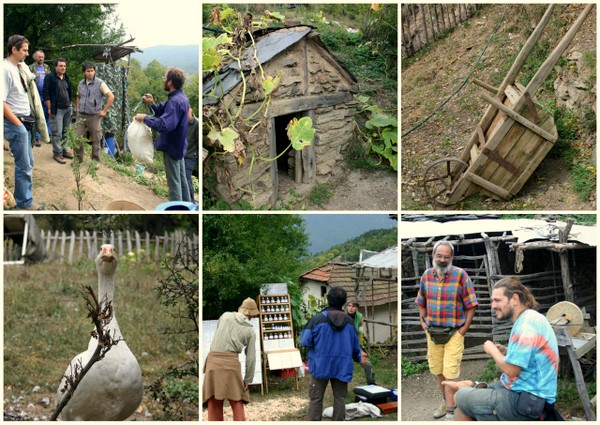 Jelen village - WOOF perma-culture farm
In our search of specific bio- or bio- dynamic farms we visited the parma-culture forum at a mini farm located in the village of Jelen – it was founded by an English family that has been living in Jelen for 5 years now. There we learned a lot about the hardships and the attempts for bio-agriculture in Bulgaria and we met the first appropriate members for our CSA project.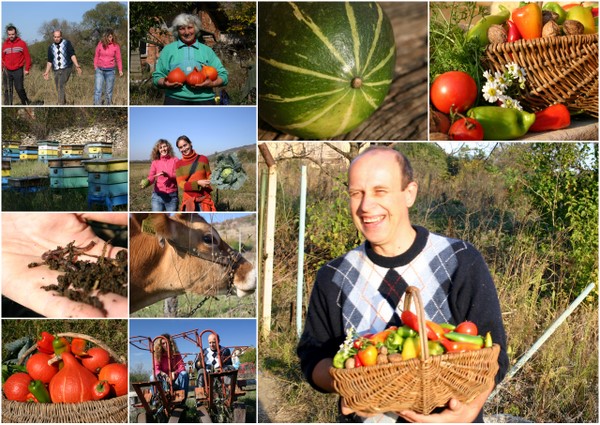 Malo Peshtene - bio-sertified farm
This is the first bio-certified farm that is also appropriate for our CSA cycle – it is approximately 130 kilometers from Sofia and has 85 decars of bio-certified land. It grows a rich variety of vegetables and most importantly – the farmer is a young man for whom bio- agriculture is not only business and a way to make ends meet, but it's a life philosophy. Milen, the bio-farmer from Malo Peshtene is a member of the board of managers of the Bulgarian Association of Bio-Products – he introduced us and connected us to his colleagues: bio-farmers from all over the country. The serious problem with the lack of information and contacts of good quality bio-farmers was solved in an instant.
Milen is the first bio-farmer, who not only embraced the CSA idea, but with whom we did the next very important steps of the project:
When he asked us to organize the first voluntary action to help a colleague of his to gather his dinkel produce. When he invited us to present the CSA idea in front of all the representatives of the Bio-Association – more than 150 bio-farmers from all over the country. When he asked us to help him sell 3 tons of bio-peppers – so that we can save the bio- produce, which was otherwise bought up at a price lower than the conventional agriculture – for less than 4 days all the bio-peppers were sold through the mailing list of the newly started CSA group and web site
The whole logistic, necessary to distribute the bio-peppers was done by volunteers – by us and members of the starting CSA group in Sofia.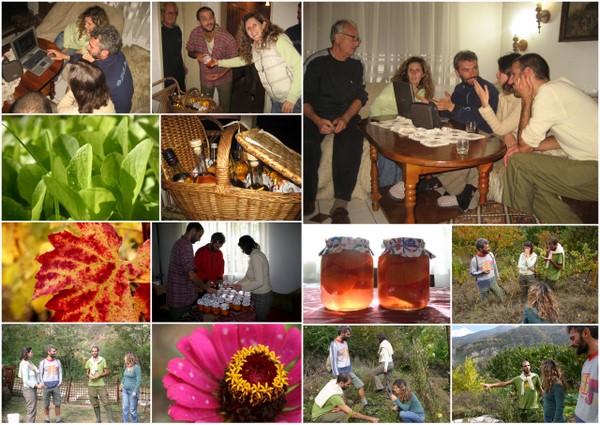 Bachkovo village - bio-dynamic certifyed farm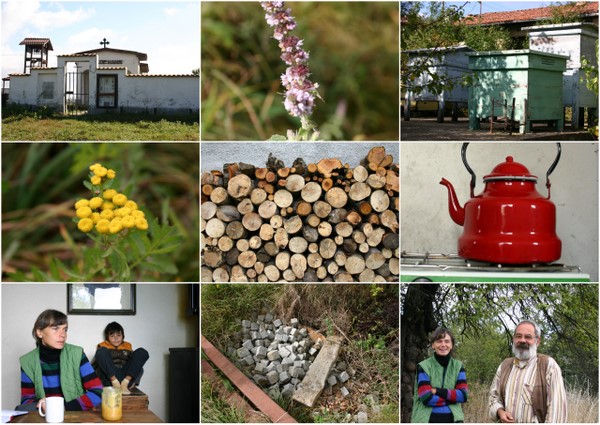 Vakarel village, honey products family farm.
They produce honey products and want to develop a bio-garden.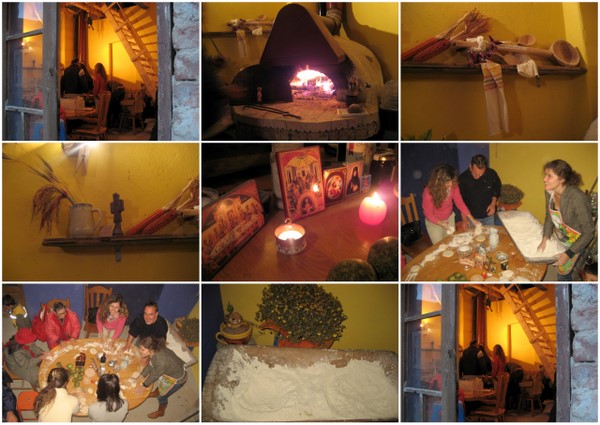 Gabrovo town, Bread House movement for Social Change - http://bread.zaedno.net/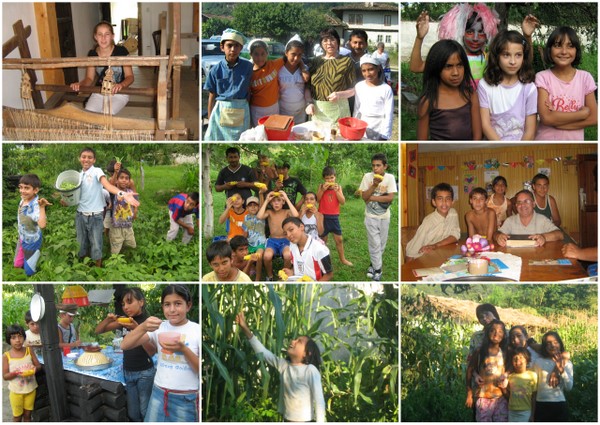 Zlatarica Social House - "3 in 1 – together"
Children from 4 different ethnic groups from families with low income are thought how to grow their own food – the municipality has provided a garden in which they can experiment and cultivate. An old man, a neighbor, voluntarily and with a lot of love teaches the basic rules of planting and growing fruits and vegetables to the children. The children love their garden and the manager of the atelier – St. Nikolova. The woman is a true patriot, who teaches the children to be hardworking, to live a healthy life and be tolerant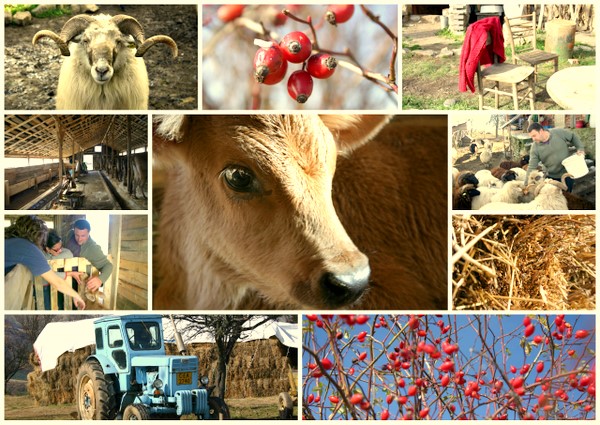 Family farm "Elata", Plana mluntain, 30 km from Sofia
CSA COMMUNITY BUILDING - MEETINGS, PRESENTATIONS and EVENTS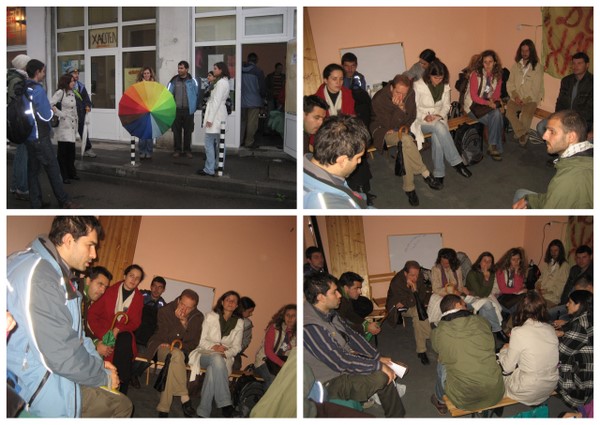 First Haspel meeting in Sofia - October 24th - over 35 people families and farmes presented - an electronic mailing list was crerated and used very actively.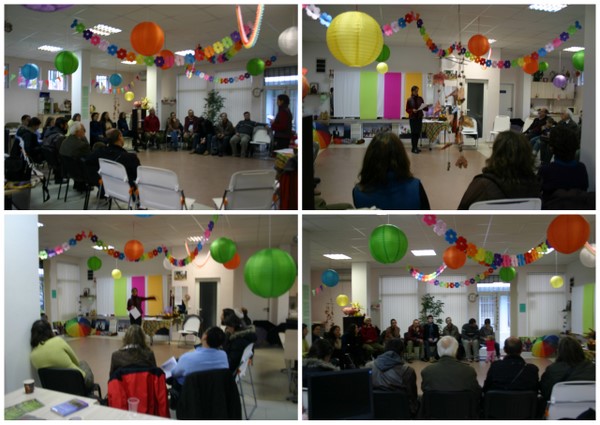 SECOND CSA Community meeting in Sofia - 28 October
Оver 35 people presented - thee legal structure and framework of the CSA group was disccused.
After that meeting a CSA group in Plovdiv was inititated and they had a local meeting for CSA group forming in Plovdiv on the 13th of November 2010. Two of the farms that were selected for Sofia - moved to the Plovid CSA group as they are closed to them.
SERIES of presentations and disicussions were held in Sofiaduring the national wide bio-forums - it was not in the project plans but it gave us the great chance to present CSA concept to the larger public, all bio-producers in Bulgaria and medias:
Bio-Forum presentations - http://viaexpo.com/index.php?option=com_content&view=article&id=141&Itemid=210&lang=bg
Presentation and discusstion of the CSA model and direct markets in partnership with the National Association of the Bio-farmers - over 60 people bio-producers from the whole country
Presentation of the CSA model to the families and bio-farmers - over 60 participants and media representatives
CSA presentation to the mothers and families from the Estestveno center
THE GOOD NEWS – as a result of the campaign and the other activities were formed a few active groups to start CSA in Sofia, Plovdiv, Burgas, Varna and Stara Zagora, who actively took the initiative to organize meetings and form initial pilot CSA cycles.
At this stage there is an interest from consumers as well as producers of biologically clean food from different regions.
CSA VOLUNTEER ACTIONS for supporting the small farmers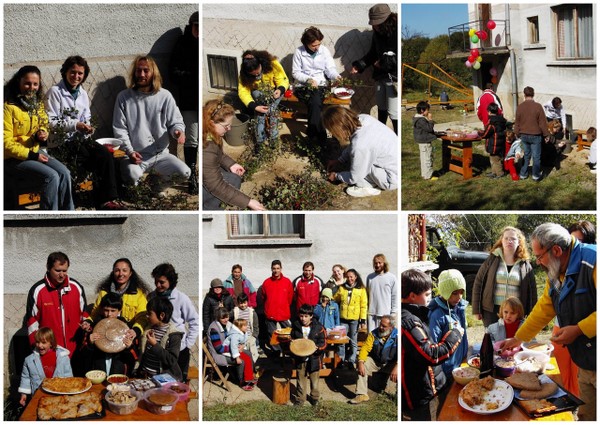 Vakarel village - 7 November - commuity is suporting the preparation of the bio-dynamic garden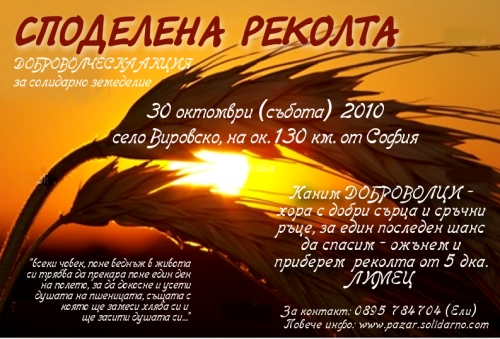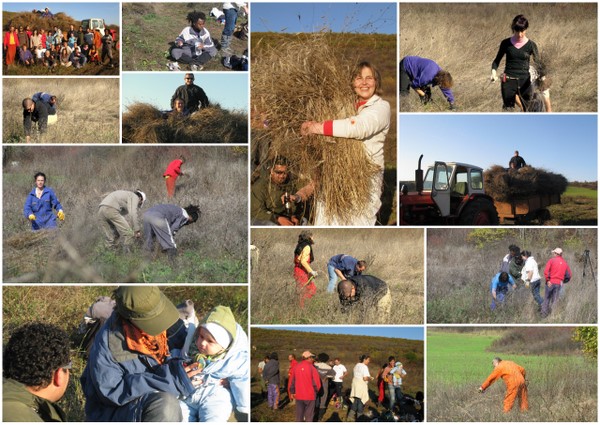 VOLUNTEER ACTION "Saving the harvest of Dinkel" - 30 October 2010
Over 30 volunteers from Sofia went to Vratsa (150 km distance) to help Eli (a bio-farmer) to save the harvest. The National TV made a film and stated that is was unique moment for Bugaria - for the first time the people from the big city came out to give their voluntary labour to help and support a small farmer - because of the lack of state financial support Eli and many other small farmers in Bulgaria are close to bankruptcy. This volunteer action saved the priceless greens of Dinkel - ancient wheat that does not accept any GMO modifications.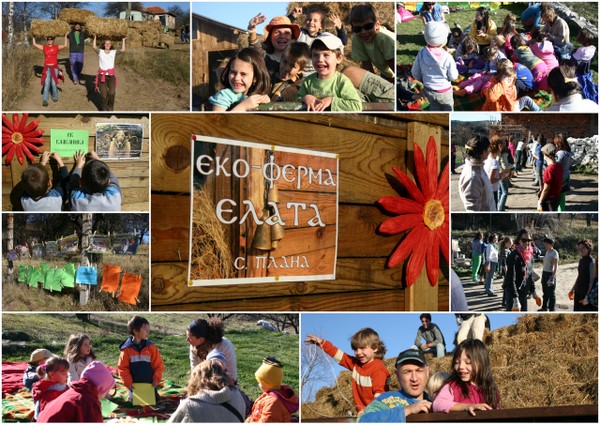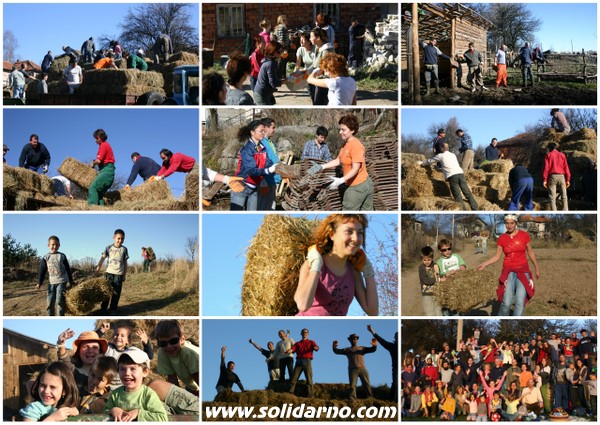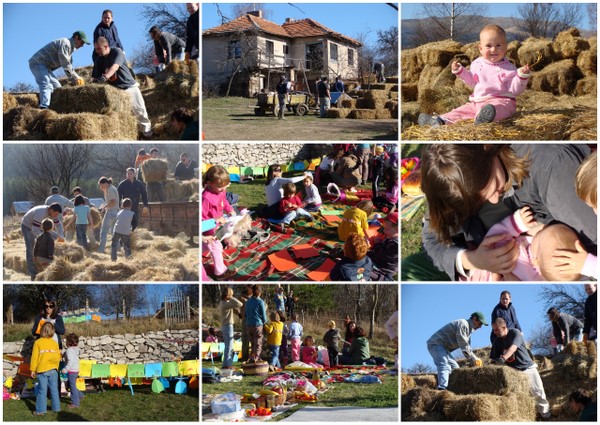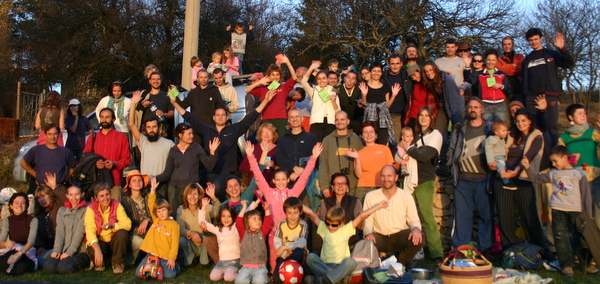 The biggest and the most successful CSA action – more than 80 people participated -
More than 80 people – one big family made from friends and families – the youngest participant was 2 months old, the oldest – a little over 70. Friends came and helped from Sofia, Pernik, Pleven, Asenovgrad, Plovdiv, Germany and… Afghanistan.
After this every weekend a steady group of 20 – 25 people continued to provide their help.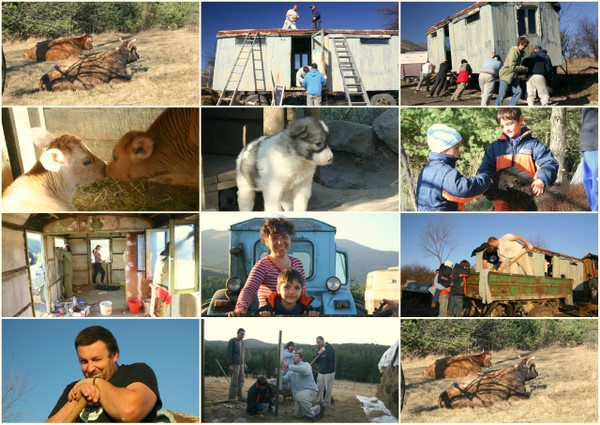 Second Volunteer Action in Elata farm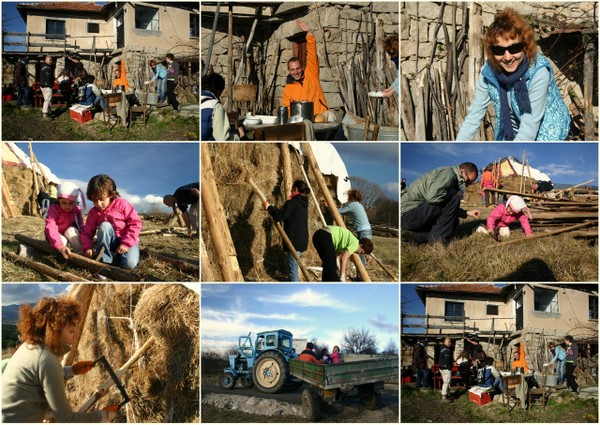 Third vounteer weeknd in Elata farm - 20-21 November 2010

WEB PRESENCE and SUPPORT for the small family farms
We created a web profiles for the farms that we are goiong to include ion the first CSA group - you can see them here - http://www.solidarno.com/taxonomy/term/7
Print promotional materials were made for them
They were promoted to the families who wish to join the CSA group in Sofia
Dynamic web portal was started with the following functions and on-line services:
Printed & Informational Materials
CSA promotioanl Callendar 2011 (the LOGO of VDM is on the stand beyond the pages - the most visible area but this second file is missing here now) - you can Download the callendar from HERE
CSA Poster-Leaflet (informational and educational) - on progress
The pilot project activities will be finalied bu 31 January 2011 and the final narrative and financial report will be presented to Vision Du Monde by 2nd of February 2011.
Dear friends THANK you so much for your support - you make the positive change happen in Bulgaria.
With love and best wishes
ZAEDNO Team